Integration for Slack
Get notified about all your team's important events. Connect Slack with your Zelt app and be reminded of holiday requests, birthdays and work anniversaries.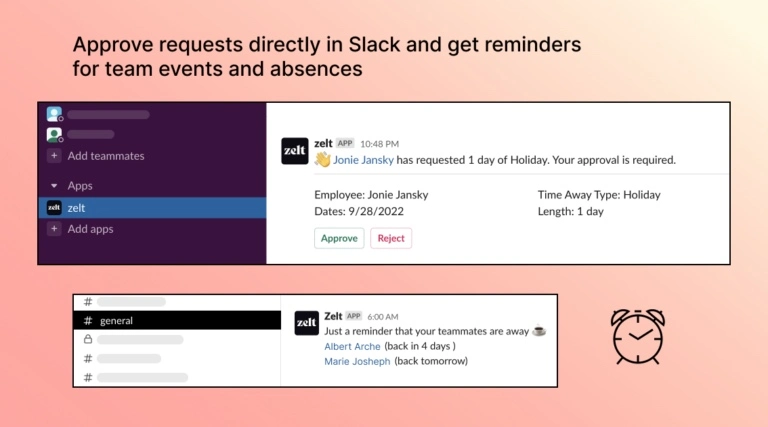 Instant benefits
Zelt is a single source of truth for your people. Now you can connect your most loved messaging app to Zelt so that your people notifications, workflows and reminders more accessible.
Remind teammates when you are away
Once you've configured your notifications preferences as a Zelt admin – everyone in the selected channel (we suggest #general) will be reminded about team absences.
No hassle requests
Get a Slack notification whenever your team member needs you to approve their long-awaited holiday request. No more emails or chasing for approvals.
Never miss a special day
Zelt bot will make sure your team never misses a special day – new joiner in the team, somebody's work anniversary, birthday and more.
Integration FAQ:
How to connect your Slack workspace to Zelt?
Log in to your existing Zelt account and click "Apps". Find Slack or follow this link https://go.zelt.app/apps/slack/about and click "Connect".This flow will redirect you to Slack connection page. Please review and allow the connection. Once a successful connection is made – you will be taken back to your people directory where you can check who in your team now has access to the app.
How to set notifications preferences?
Once your Slack Workspace is connected to Zelt, you can start using Slack as your preferred communications channel for various people updates. To set notifications, head over to https://go.zelt.app/settings/notifications and enable Slack notifications.
Here you can manage what people events and time away should you be reminded of and through which public channel.
I am a manager and I do not get my employee's holiday requests on Slack. What is the problem?
If you are a manager of someone, it should say so on that person's profile in their Work tab, under "Reports to". To receive notifications about this employee's requests – you should make sure that your company admin has enabled manager Slack notifications here: https://go.zelt.app/absence/company/settings
Don't see your question here?
Email support@zelt.app if you don't see an answer to your question here. Our response time is 5-10mins!
What is Zelt's privacy policy when it comes to my data?
In this day and age where our digital footprint is stronger than ever, it is crucial to know how organisations that you interact with manage your data. Here at Zelt we are advocating for transparency and security when it comes to personal information. That is why we have built Zelt using best practices to ensure a strong and secure service.
We have answered a few of the most popular questions about your data security in our data security overview
but if you have any further enquiries, please contact us at support@zelt.app
Checkout our other integration guides