New Time Planner App
Custom policies for absence and attendance are essential for any company that wants to ensure the well-being and productivity of its employees. This is especially important for companies with international teams, as different cultures and time zones can impact when employees need to take time off. Additionally, different departments within a company may have different workload demands and require varying rules for time off.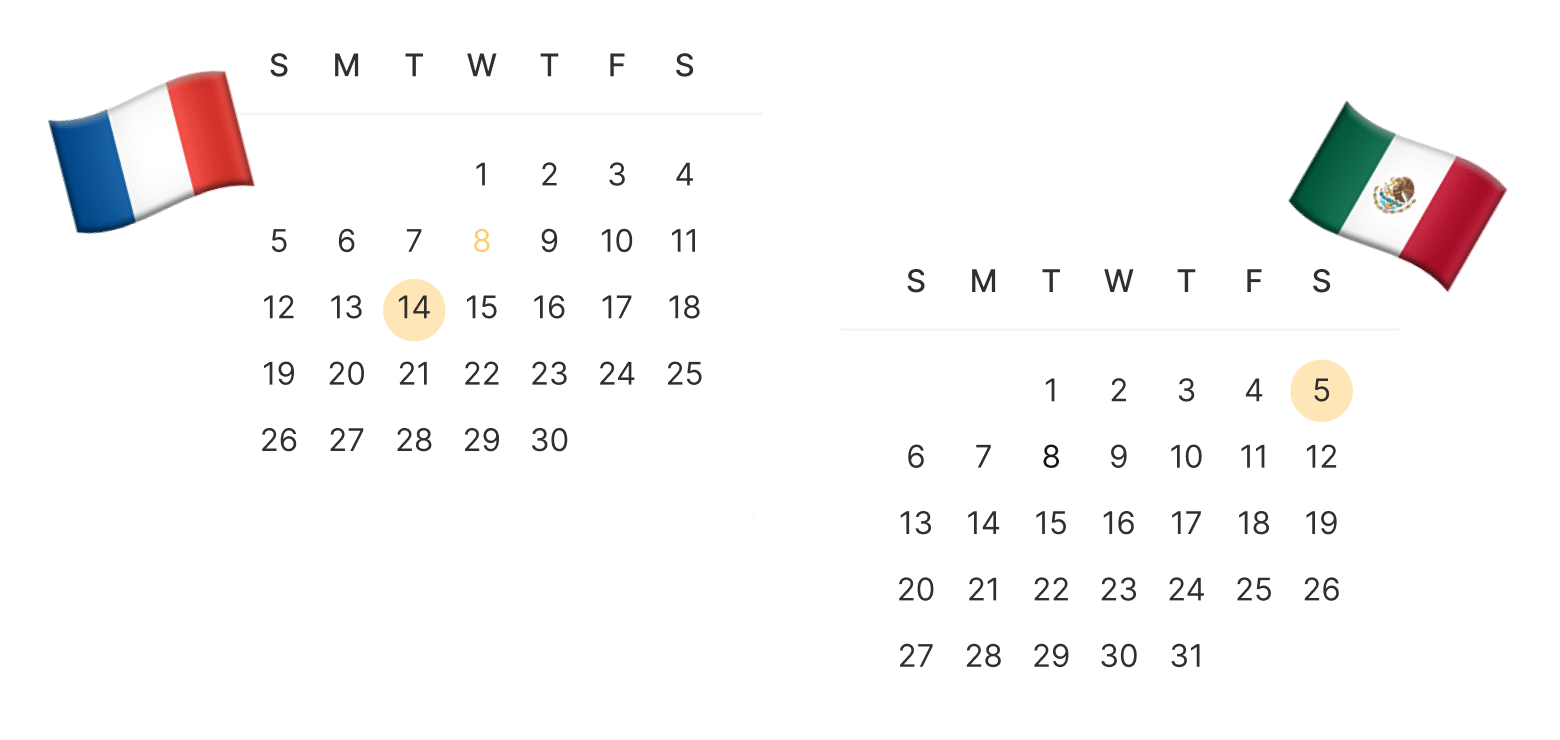 Now you can create your own custom absence policies and working patterns in Zelt so you can track time and attendance like a pro. Like Paid time off, paternity leave, work from home OR office and more. Each policy will have granular settings from defining allowance to setting approval rules and notifications/reminders.
New Settings
If your company is mostly located in one country – you can define a default public holiday calendar. If you have an international team or just a few members – this setting can always be adjusted in user's profile.
To help you manage available resources better, you can show overlapping events to the employee each time they book a holiday that is already booked by someone else in the team. Soon we will add an option to auto reject absences if there is any number of overlaps.
Custom Policies
Head over to Policies to manage and create new policies for your team. You can click on Details to see the settings of the existing policies.
Creating a new policy
There are 5 steps to creating a new policy. First pick a colour and a name. You can also decide in the first step whether this policy should be publicly visible to other employees in the team calendar. If you choose to hide details, the event will be shown as simply "Away" in the calendar.

Second step is to decide on the allowance. Create policies with Unlimited allowance. This is useful for things like Working from home or Working from office. Soon we will add a way to log hours alongside an event from this policy. For example, each time an employee would book Work from home, Zelt would also ask the employee to put in the hours they have Worked from home on that day. Limited allowance works the same way as in the old Time Away app. For each policy you can configure the following:
Allowance
Note that allowance excludes any additional public holidays the employee may be getting on top.
Prorating rule
This will determine how the allowance should be prorated. At the moment we have prorating by:
FTE % – Full Time Employment Percentage. If the employee is only working 50% of the full time, they will get 50% of the allowance if this prorating rule is selected.
Start date – Prorating allowance based on when the person started their employment. If they started 50% into the year – they will only get 50% of the allowance. However with some policies you may want to remove this setting. For example training leave – where employees would usually get 100% of their allowance no matter when they started work.
Accrual rule
This setting determines how do you want to calculate the accrual of holiday.
For monthly employee will earn equal portion of full allowance every month
For daily employee will earn equal portion of full allowance every month
Carry over
Define how much of any unused allowance can the employee carry over into the next holiday calendar and how long would they have to use it up, in case you want any additional carry over to expire. At the moment all users in the company will be set as members of the policy, meaning that everybody can request it. More granular member selection is coming soon.
Approval rules
Auto-approve: all requests will be approved on logging
Manager: manager of the employee will be responsible for approving
Manager + Manager's manager: Manager of the employee logging the request, or their manager, will be able to approve the request.
Note: company admins, or users with the necessary permissions will be able to approve any requests any time.
Notifications and reminders
Notifications will be sent to approvers via email or if you have Slack connected, Zelt Bot will send a direct message to approvers with an action to approve directly from the chat.
Additional features coming soon
Invite members to a policy by selecting Everybody, Specific users, or by setting a rule. For example all employees in the Engineering department.
More advanced approval rules – select specific users who are responsible for approving. Edit approvers in individual user's profile.
Time tracking
Sending approval requests to a channel in Slack