PRESS: Zelt awarded best B2B Tech at 2023 Product Awards
Zelt was nominated by the Products That Count's product manager network, and chosen as a winner by an independent Awards Advisory Board composed of top product leaders, including representatives from Intuit, Oscar Health, and Macy's.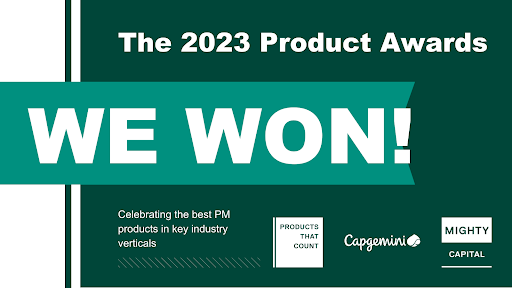 With previous winners including Amplitude & Zoom, Zelt's recognition at the Products That Count Product Awards is a clear indication of the company's dedication to providing innovative solutions that meet the needs of businesses. The company's platform offers a range of features that can help companies manage their HR operations more efficiently, from automating administrative tasks to providing powerful analytics tools that can help businesses gain valuable insights into their workforce.
As Zelt continues to develop new features and functionality, the company remains committed to providing value to its customers and driving innovation in the HR management space.
The company would like to thank Products That Count and its sponsors Mighty Capital and Capgemini for their support of the product management community and congratulate other winners including Dragonboat, Chameleon, Onecomply, Voxel, Bill Pay, Highnote, Klutch, NeoTax, Billy, Coral, Clearstep, Manatee, Carbonspace, Angle Health, Rookout, Segmed, Signalwire.
Congratulations to all the other winners and nominees in the B2B Tech category and beyond!
About the Product Awards
The Product Awards, produced by Products That Count in partnership with Capgemini and Mighty Capital, celebrate the best products for product managers, chosen by product leaders. Based on insights from thousands of product managers, the Product Awards showcase product managers' favorite products within five distinct categories: B2B Tech, FinTech, Internet of Things, Life Sciences, and Sustainability. These categories were defined by our independent Awards Advisory Board, 12 product leaders committed to pushing forward the product conversation. Learn more at productsthatcount.com/product-awards.
About Zelt
Zelt is a leading provider of HR software solutions to businesses of all sizes. Its platform is designed to streamline HR processes, reduce administrative burdens, and enhance the employee experience. The software enables companies to manage all aspects of human resources, including onboarding, payroll, performance management, and compliance. Zelt's platform is intuitive, user-friendly, and customizable to meet the unique needs of each client. It offers a range of features, such as automated workflows, real-time reporting, and employee self-service, to help businesses improve operational efficiency and make informed decisions. Zelt's experienced team of developers and HR professionals is committed to providing exceptional customer service and support. They work closely with clients to understand their needs and continuously update the software to meet their evolving requirements.