Integration for Deel
Zelt is welcoming a new integration with Deel. Deel is the all-in-one HR platform for global teams. It helps companies simplify every aspect of managing an international workforce, from culture and onboarding, to local payroll and compliance. Deel works for independent contractors and full-time employees in more than 150 countries, compliantly. And getting set up takes just a few minutes.
The integration between Deel and Zelt aims to provide admins with a seamless experience when hiring talent worldwide, eliminating concerns related to compliance, data management, and manual processes. By combining the capabilities of both platforms, this integration streamlines the hiring and onboarding processes while ensuring global compliance and efficient data synchronization.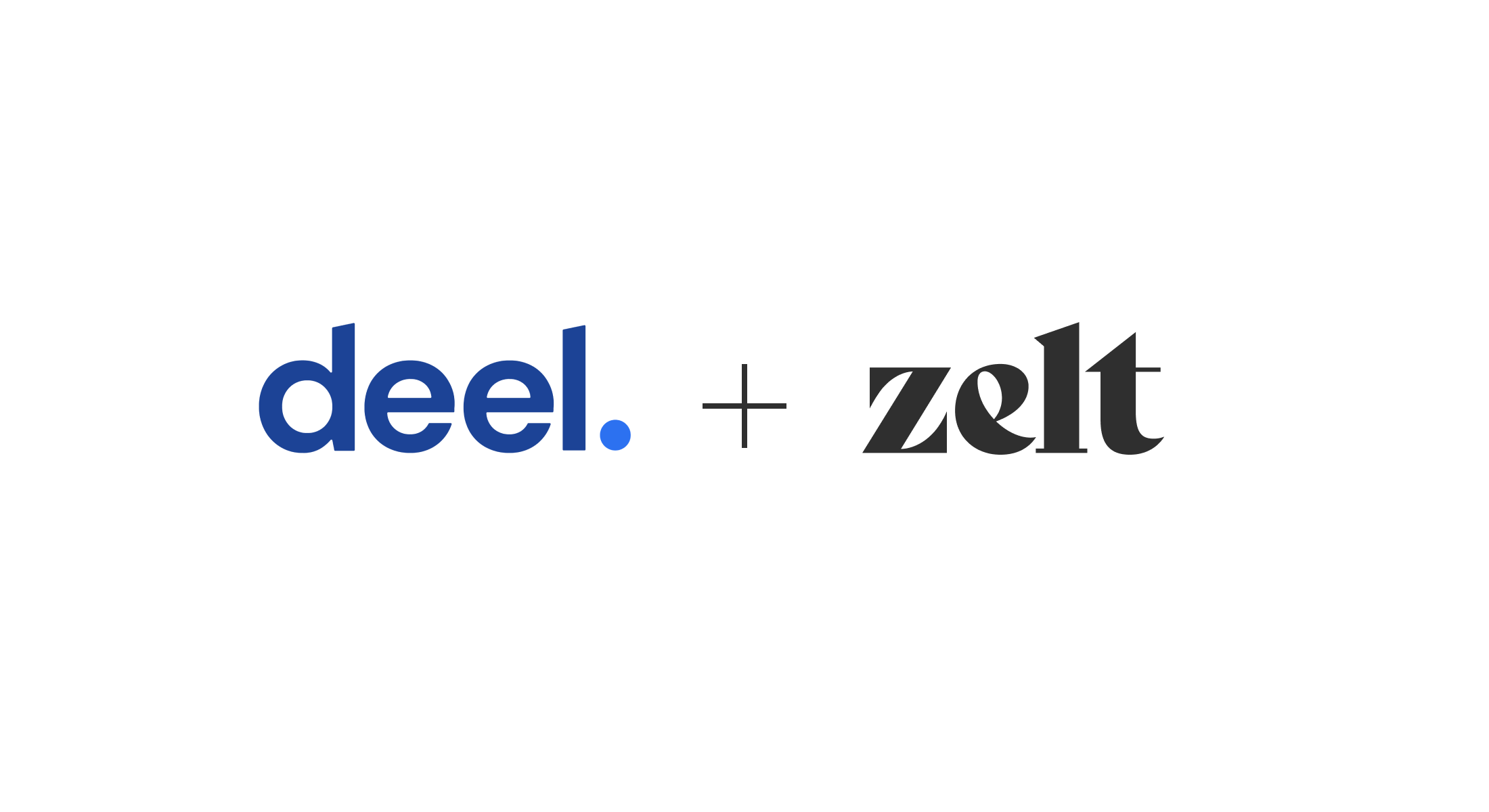 Compliance when hiring globally
One of the primary features of the Deel and Zelt integration is its ability to handle compliance requirements when hiring talent from around the world. Deel specializes in global compliance, offering legal and financial solutions to ensure that all employment contracts, tax obligations, and local labour laws are met. With the integration, admins can leverage Deel's compliance expertise directly within Zelt's workflows. This ensures that all necessary legal and regulatory aspects are addressed, minimizing the risk of non-compliance.
Syncing between systems
The integration enables seamless syncing of data between Deel and Zelt, eliminating the need for manual data entry and reducing the chances of errors. Key information such as candidate details, employment contracts, compensation details, and other relevant data are automatically transferred between the two platforms. This real-time synchronization ensures that both Deel and Zelt have accurate and up-to-date information, enabling admins to access all necessary employee records without switching between multiple systems.
Quick automated onboarding
Efficient onboarding is another crucial aspect of the integration. Once the employee is hired – they can be onboarded in Zelt and synced to Deel automatically. The necessary employee information is shared between the platforms, allowing Deel to handle the necessary paperwork, tax forms, and other onboarding requirements based on the candidate's location. This streamlined approach eliminates manual paperwork, reduces administrative burdens, and ensures a smooth onboarding experience for new hires.
Centralized employee records
With the integration, admins no longer need to maintain employee records across multiple systems. All relevant information, including contracts, employment details, payment history, and compliance documents, are consolidated within Zelt. This centralized approach simplifies record management, improves data accuracy, and enhances overall administrative efficiency.
The Deel and Zelt integration offers a comprehensive solution for admins seeking to hire talent worldwide without the complexities of compliance, manual data management, and scattered employee records. By leveraging Deel's expertise in global compliance and combining it with Zelt's hiring and onboarding capabilities, this integration ensures seamless data synchronization, compliance adherence, and automated onboarding. Admins can focus on hiring top talent and expanding their global workforce, while the integration takes care of the administrative complexities involved in the process.
How to connect?
Go to Apps
Click on Deel
Click Connect
Authorise with Deel
How to remove this integration from Zelt?
Go to Apps
Click on Deel
Go to Settings
Click "Remove integration"
Demonstration: