How to choose the right payroll software
Payroll is one of the most important business processes out there: All businesses who employ staff need to have an efficient payroll process. And when it comes to payroll, calculating salaries is just the tip of the iceberg.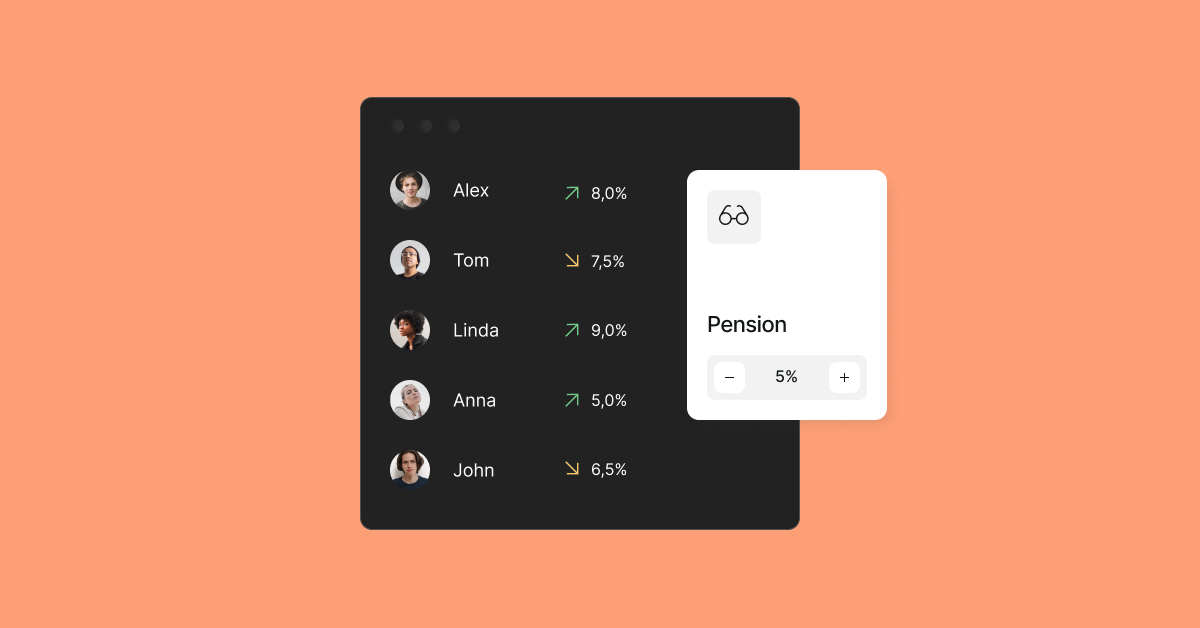 Payroll has many elements to it, such as:
Adding and removing employees to/from the company's payroll
Calculating salaries, wages, and bonuses
Tracking attendance, vacations, and time off
Calculating and remitting taxes and deductions
Staying compliant with all local labor laws
Ensuring a positive employee experience through the entire employee journey
These can all be easily automated and managed with the right payroll software. In this article, we'll look into why it's important to choose the right software, how to select the right provider, what you should be looking for in payroll software, and also how to manage payroll in a way that improves employee engagement and productivity.
Why do you need a good payroll software
There are three main ways to manage payroll:
In-house, with your own software
By outsourcing it to a payroll service provider completely
A hybrid model, which combines your own software and the services of an external provider.
Of these three, outsourced payroll is the least efficient, and the one that exposes you to the biggest risk of errors. Outsourcing payroll might look like a good idea, but is often expensive and creates friction in your organisation – and you're trusting a service provider with your most sensitive data.
Payroll software automates payroll and helps you keep tabs on all the different elements of payroll internally, while making sure your data is securely stored. It can be very cost-efficient, too, but how much you can actually do with it will depend on the actual software you choose. In fact, choosing the right payroll software is a critical component to successfully running your business.
The right payroll software can help you with the following.
Automate payroll
Most payroll processes are fairly repetitive, but they're also very resource-intensive if done manually. Automating payroll will make it more efficient, faster, cheaper, and less prone to errors.
Streamline taxes and deductions
Compliance is a major concern for any company out there – and rightfully so. Tax rules and regulations change every so often. With the right payroll software, you'll be able to stay on top of these changes and always make sure you're staying compliant.
Improve communication with employees
Employees should always be at the centre of your admin processes, and this also includes payroll. If you have a payroll platform that offers comprehensive self-service features, this will make your payroll more transparent for your employees, and improve the overall employee experience. It will save time for both employees and admins, and avoid frustrating errors.
Keep your employees' and your business' data secure
Outsourcing payroll is something that many companies are doing, but this exposes them to additional security risks. The right payroll software will minimize your dependency on external service providers and will help you keep your data secure and in one place where you are in control.
Save time
Thanks to automation, payroll software will help you save yourself and all employees massive amounts of time, once you set up your payroll processes.
Improve the employee experience
Maintaining a positive employee experience is a crucial aspect of any business: Employees who are satisfied with their job are more likely to stay longer with the company, be more productive, and help you achieve better results.
Pay is a very important aspect for employee satisfaction, so you need a payroll software that is built around your employees, and that is well-integrated with all other business processes. Using a unified employee platform is one of the best ways to both handle your payroll well and improve your employees' experience.
As you can see, payroll software is a critical component of running your business successfully. Because of that, it's important to choose the right software tool.
How do you choose the right payroll software for your business?
In this section, we'll guide you through the questions you need to answer when choosing a payroll software for your business.
To make things easier, we've split questions in three categories:
Does it fit your business?
Does it have the right features?
Will it help you get the right results?
Let's look into each of these.
Does it fit your business?
Every business has different needs when it comes to payroll, so it's important to consider your core business needs and see whether there's a match. How many users will you need? Can you add more users easily?
How many people are currently handling payroll at your organisation? Is payroll the responsibility only of your finance department, or are HR and finance working together on it? Check whether a few users can work on the same task simultaneously, and whether everything is updated in real time. Make sure you can easily add more users, as well. Running an integrated HR & payroll software solution may help with this.
Does it fit your business' size and structure?
Next, you need to consider your business' size and structure. How many employees will you be doing payroll for? Are they all in the same country, or do you have a distributed, international team? If you're often working with contractors, can you handle their payments from the same system, or will you need a different app?
Does the service provider operate in your geographical area?
Payroll is tightly regulated and you need to make sure that the software provider you're using is compliant with the rules and regulations of your geographical location, and that you're able to correctly calculate salaries and different types of leave (such as holiday leave or statutory sick pay). This is particularly important if you have a remote team spread across different countries, or if you plan to hire remotely. According to a FlexJobs survey, remote work is becoming more and more desirable for employees – in fact, 94% of workers want to work remotely at least a part of the time. Make sure the payroll app you choose can handle this.
Is it scalable? Can it grow with your business?
Choose a software that's sufficiently scalable to support your growth. Most payroll software tools are quite flexible and you can easily add more employees, but you need to also consider different pricing models – will the same app be the best option for your business, and will it make sense for you financially, if you grow beyond the 100 or 200 employees mark? How about 500?
Does the pricing fit your budget?
What is the pricing structure and the total cost of each option you're considering? Is the pricing structure clear and transparent? If the pricing is per employee per month, as is often the case, you need to calculate the total monthly price you'll be paying and the projected cost in case you're in a rapid growth phase. As a general rule of thumb, if you are paying more than £3 per employee, you are overpaying.
Is payroll fully automated?
Collecting and processing payroll data can be a cumbersome process, and one of the first things you should look for in payroll software tools is automation.
The best payroll software in the UK will gather the personal data required from UK employees to calculate deductions correctly, such as tax codes, opening balances and student loans, and process data on attendance, bonuses, and deductions automatically, without manual work from your side. As much of the important data is provided by employees themselves during onboarding, having an employee self-service portal, where employees can share all required payroll information easily and access payslips and tax documents without needing to contact you, is paramount.
A modern payroll tool should be able to integrate with your accounting system such as Xero, so your books are always up to date, and with your pension provider, so new employees are added automatically and removed when they leave.
Is it cloud-based?
A cloud payroll app will allow you to access it from anywhere, including, in most instances, from a mobile device. With cloud applications, however, you also need to make sure it has the right level of security: Uploading sensitive employee data exposes you to important security risks.
Does it support online payments?
An online payment feature will enable you to process bulk payments with just a few clicks, without needing to log in to another system. Processing payments manually exposes you to a potential risk of errors.
If you are in the UK, you should add Open Banking integration onto your list of requirements, as it allows you to send a batch of payments to your bank within a few clicks and without any risk of human error, in real-time.
If you're in the US, an app that can handle direct deposits (ACH payments) will simplify and speed up the payment process.
Another feature you should consider is automated contractor payments – if you're often working with freelancers, such a feature will help you save time and money, and also maintain a good relationship with them.
Does it have an employee self-service portal?
An employee self-service portal will give your employees full visibility into their salaries, bonuses, deductions, and tax forms. They'll also be able to download their payslips, send you their income tax declarations and reimbursement claims, and check if attendance and leave data is correct.
It will also save you a lot of work related to onboarding employees to payroll, as much of the important information to get people set up when they join your company needs to be provided by the employee herself, such as P45 information or a starter checklist.
An employee self-service portal will improve the employee experience by making your payroll process more transparent for your employees, will reduce payroll errors and avoid a lot of friction in your business.
Does it have the right tax management features?
Tax management is a key aspect of payroll, and you need to make sure your payroll software will help you stay compliant, wherever you're located. Opt for an app that processes tax-related transactions and ensures compliance with tax regulations in your area. For the avoidance of doubt, payroll taxes you owe to HMRC are different to VAT, which requires a different set of software.
Does it have the right reporting and analytics features?
The right reporting and analytics features will give you a clear overview of your payroll data. You need to be able to see and track important payroll metrics and create reports on salaries, benefits, attendance, taxes and deductions.
Does it help you get the results you need?
The right payroll software app will help you get specific business results and achieve specific outcomes, such as:
Onboard new employees faster
Improve the employee experience
Save time and money, and more.
Let's look into the different outcomes.
Does it help you onboard and offboard employees without mistakes and securely?
Employee onboarding and offboarding need to be quick and efficient. Setting up the profile of a new employee shouldn't take more than a few minutes, where you input their data, connect your online payment system to their bank account, and sync with all other tools you're using. Employee termination should be an equally simple process.
If you're using a single hub for all your admin processes and your communication with employees, onboarding and offboarding will be even easier. Reduce emails as a medium to exchange sensitive employee information in order to reduce risk of data breaches and phishing.
Does it integrate well with other systems?
Software integration is essential for businesses, and is often a major roadblock, if your apps won't sync well. For that reason, you need to pick a software tool that will either easily fit into your current technology stack, or one that will allow you to handle all your admin processes in one place.
Using a unified workspace platform can replace the need of having a separate app for each process and connecting them one by one and will enable you to provide a widely superior employee experience, too.
Does it help you improve the employee experience at your organisation?
Although not instantly obvious, the link between payroll and the employee experience is strong: Employees expect swift payments, transparency, and the possibility to report an error instantly, should there be one.
For this, having a payroll system that puts your employees in the centre of your payroll process is crucial, and will help you build trust and loyalty. Features such as self-service payroll, attendance and time off management, and access to all payslips and tax information are key to your employees – make sure the app you choose has them.
Does it save you time and money?
The right payroll software will automate your payroll process, saving you a massive amount of time and money. For this, you need to look into how easy it is to use the platform, how quick it is to onboard and offboard employees, and also what the total cost would be for you.
Errors in payroll management can be extremely costly, too; having a good payroll software will help you greatly reduce manual work and, consecutively, the risk of errors.
Why a unified workspace platform might be the best solution for payroll management
Payroll software comes in many shapes and sizes, but what matters most is whether it can help you achieve the business outcomes you need at the moment. And sometimes, you might need to take a step back and consider the bigger picture, and see how your payroll is interconnected with other processes.
For this reason, an app that is strictly dedicated to payroll might actually not be the right solution for you – instead, you might want to look into a unified workspace platform like Zelt that enables you to manage all the different aspects of your business in one place, including HR, payroll, employee workspace apps, and device management. This way, your employees will have a single hub where they can access all the information and apps they need, and you'll be able to handle all processes quickly and efficiently, without having to integrate countless apps.
This will have a direct impact on the employee experience and engagement, which are critical for any business and have a direct impact on productivity, turnover rates, and profitability, among other things.
With the right workspace platform, you'll be able to not only handle payroll quickly and efficiently, but also handle all other aspects of admin management, and show your employees that they're in the centre of your business.