Skilled Worker Visa UK: Everything You Need To Know
Just last year there were over 200,000 work visas granted in the UK. It is safe to say that this country continues to be a melting pot for international talent. Hiring international as well as European professionals in the UK requires employer to be a certified sponsor. In this blog we will look into the required steps: from setting up your Sponsorship Management System (SMS) to revoking a work visa.

Sponsorship Licence
Obtaining a Sponsorship Licence is a straightforward process and it is worth going ahead with it, if you would like to widen your talent pool and hire people from EU and rest of the world. First of all, you need to register and submit your application alongside any additional documents on the Government website. This costs £1,476 however you may be able to get a discounted rate for £536, if you qualify. There is also an option to get a faster decision and turn around your licence is under 10 days.
One important requirement for licenced employers is to have a comprehensive system in place to monitor employees, keep copies of their documents and track attendance.
Sponsorship Management System (SMS)
Once you have been approved, SMS will be your source of truth for all sponsored employees. Here you can create and assign Certificates of Sponsorship (CoS). This is essentially a document confirming the details of employment and your intentions of hiring this particular applicant. Your new joiners will need to have a CoS on hand when they submit their application. Therefore creating a CoS is the first step after the contract was signed.
Creating a CoS is pretty much instant and only costs £199. If circumstances change and the CoS never gets used (it is considered "used" when a Skilled Worker visa was issued against it), Home Office may be able to refund the full cost of an unused CoS to you.
First step: Create CoS
Login to your SMS and go to Workers, then click on Create and assign. Here you will be presented with quite a few options for category of Skilled Worker CoS that you are creating. It is important not to make a mistake here as Employee's visa will be rejected if the category is incorrect.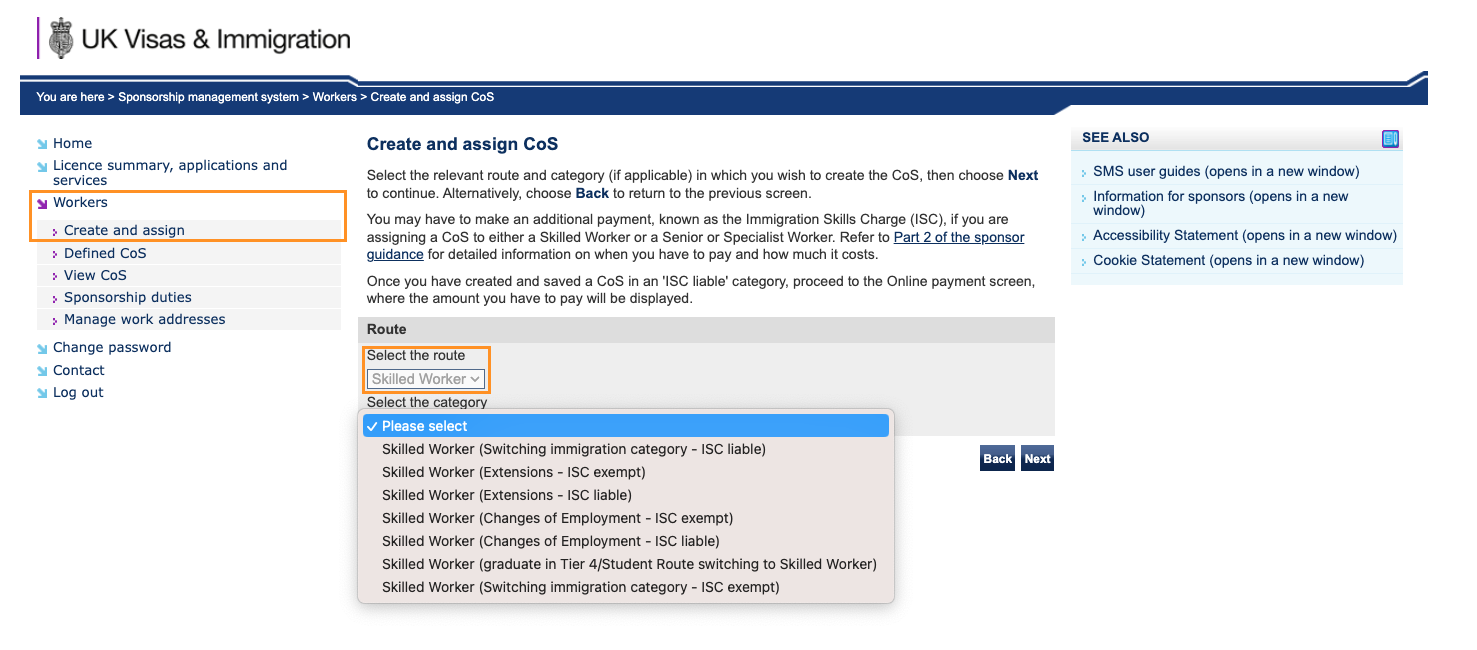 Switching immigration category: This category is most commonly used for newly sponsored employees.
Extensions: This category is used for extending existing employee's visa only if they have been issued by you before. If they are switching from another employee this category will not be correct.
Changes of Employment: This category is used when an existing employee's contract has changed significantly, for example they have a new job code and a new going rate.
For understanding whether this employee will be Immigrations Skills Charge (ISC) liable or exempt you should check it against the Government guide.
Another important differentiation between CoS options:
Defined CoS: for candidates that will be applying for their visa from outside of the UK
Undefined CoS: for candidates that will be applying for their visa from inside of the UK
Next, click on Create new single certificate.

Second step: Populate CoS
Now, the most important part is to to fill in the details of the newly created CoS. For this – a lot of personal details will be required. You can create an onboarding flow in Zelt that will collect all the required information for this CoS or you can ask your new joiner to populate this template manually before you start the creation or you can get this information directly from Zelt.
---
---
Make sure you ask them for the copy of the passport to confirm the start and end date. And if they have a current UK visa – ask for that as well, scanned on both sides. You will need this, if case they already have an NI number.
Other questions in CoS, worth noting:
Does the migrant need to leave and re-enter the UK during the period of approval? Unless they absolutely must leave, answer No here. This only means the time of the application being reviewed on by the Home Office.
Job type: select one Code from here that fits best.
Summary of the job description: Take 200-300 words from your job posting. Needs to explain what the person will be doing.
Tick to confirm that the post is at the appropriate skill level as set out in the sponsor guidance: Must match the going rates from the link above. Ie for code 1122 min salary is £34,900.
Third step: Assign and Pay 
This is the last step, where you have to pay the fee. After that the CoS will be generated and you can download it and send it off to your new joiner.
Now they can complete the application on their side using this CoS. The application on their side is mostly their personal info, so you should not handle this part of the process for them.
Is it worth getting Premium Service?
There is an option to pay an additional £500-£800 for a quicker processing time. It is worth it if you are keen for the employee to start sooner. Legally, they can not start work before the Skilled Worker visa is in their hands.
CoS-related responsibilities
Once the visa has been approved, you bear the responsibility as a sponsor to report any changes to Home Office. You will need to do it though your SMS account and find the CoS you would like to report a change for. This could be a change of address or any personal details. Or it could be a withdrawal of CoS, due to termination for example.